RChilli parser has a standard date format as 'DD/MM/YYYY'. We support all the Date format and send the output in the set date formats accordingly.
The results will be given in the way e.g 5/12/2018 i.e 5 as Date, 12 as Month and 2018 as Year.
We provide the possibility to change the date option as MM/DD/YYYY or YYYY/MM/DD etc. Apparently, the results will come up and change as the date option placed. We provide the option, where you can set the date format according to your requirement.
Simply log-in to RChilli MyAccount using credentials provided by RChilli. Go to 'API Setting'. Select date format, and scroll down to update setting by clicking on 'Update Setting' button.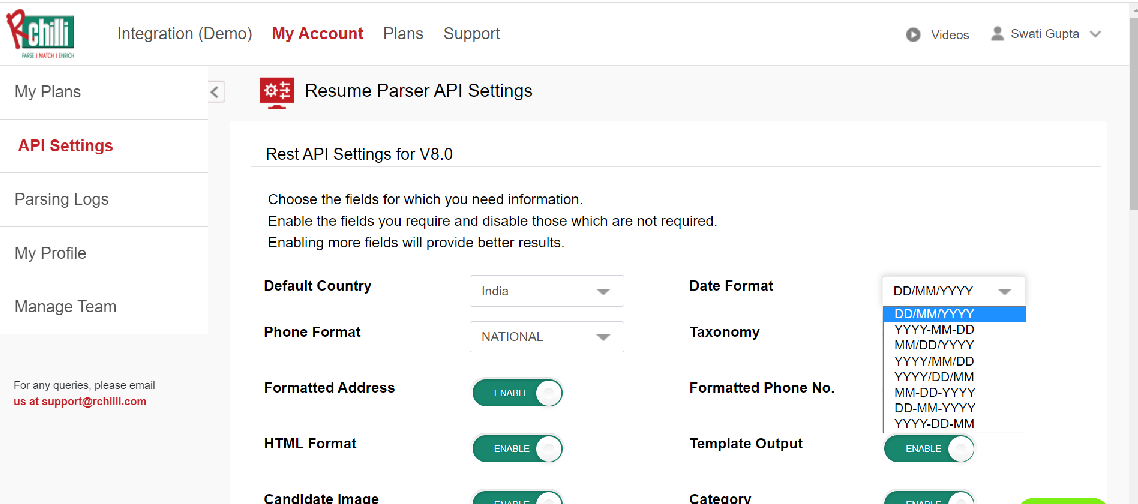 You can always contact RChilli Support via creating a ticket at RChilli Helpdesk or simply by sending an email at support@rchilli.com. We can also do it for you from our end. The Support team will help you in setting up the date format according to your requirement.